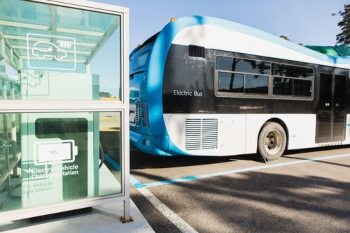 One local authority is set to receive £50m to become Britain's first all-electric bus town.
The Government is urging councils to bid for the funding which will help pay for a new fleet of electric buses, saving up to 7,400 tonnes of CO2 each year. This is the equivalent of taking 3,700 diesel cars off the road.
The money is part of a wider £170m fund to encourage more people to take the bus and includes £20m to trial on-demand ride sharing services and £30m to restore lost routes and improve services.
New low-fare, high-frequency 'Superbus' networks will also receive a £70m funding boost as part of the package.
Transport secretary, Grant Shapps, said: 'Buses carry more people than any other form of public transport in the UK, and with 200 electric buses able to offset 3,700 diesel cars, it is clear they have a crucial role to play in bringing down emissions.
'But Britain's first all-electric bus town is just the start. Helping deliver on our manifesto promise, this £170m package will help us to create communities which are cleaner, easier to get around and more environmentally friendly, speeding up journeys and making them more reliable.'
Unite, the UK and Ireland's largest union, has described the investment as a 'drop in the ocean', full of 'gimmicks' and likely to lead to greatly increased fares in some cases.
'The money being pledged for the creation and the reinstatement of bus routes is an absolute drop in the ocean, compared to what has been cut from bus services,' said Unite national officer for passenger transport Bobby Morton.
'Unite would welcome any initiative to reduce emissions but an announcement to make buses electric by 2025 is a unachievable gimmick, as there has been no investment in the infrastructure needed for recharging entire fleets of buses.
'Passengers need to be aware that while 'uber style' bus services sound attractive, journeys will be very expensive and could result in vulnerable customers being priced out of services or unable to arrange journeys, creating increased problems of isolation for many communities.
'Bus services are essential for the travelling public getting to work, accessing shops and visiting friends and family, it is vital that that there is proper long-term investment in bus services and not one off publicity seeking stunts which simply don't address the needs of bus users.'