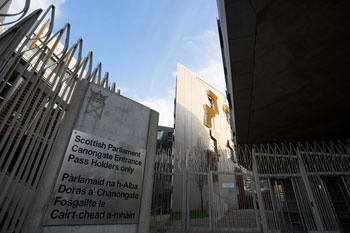 Plans to hand the Scottish Parliament 'unprecedented' powers have this morning been matched with a series of devolution demands from England's local authorities.
Prime minister David Cameron this morning announced proposed legislation to make Holyrood 'one of the most powerful devolved parliaments in the world', with influence over new income tax bands, areas of welfare, borrowing and employment programmes.
While welcoming the announcement as 'a vital step', the Local Government Association (LGA) called for the same freedoms to be handed to England's town halls.
Draft clauses for Scottish powers have been based on the recommendations of the Smith Commission yet will not be delivered in law until after May's General Election.
Cameron said: 'The leaders of the other main political parties and I promised extensive new powers for the Scottish Parliament - a vow - with a clear process and timetable. And now, here we have it: new powers for Scotland, built to last, securing our united future.'
LGA chair Cllr David Sparks said any powers handed to the Scottish Government 'should be good enough for England's cities and shires too'.
He said establishment of an English Parliament to deal with local powers 'would not represent true devolution for England', adding that the country needed 'locally elected councils driving local economies' through devolved taxation and greater controls over council tax and business rates.
'Our local areas need the same freedoms to tackle the big issues for residents, from health and jobs to welfare and housing,' Sparks said.
'Giving local areas greater control over skills funding could reduce youth unemployment by half. Freeing councils to invest in housing, create land trusts and work with developers could create an extra 500,000 homes.'