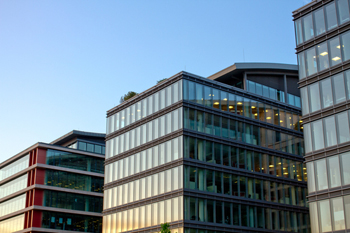 Government planning rules are slashing numbers of affordable housing while leaving charities and businesses at risk of eviction, councils claim.
The Local Government Association (LGA) today warned the amount of low-cost residential units and commerical space could fall and infrastructure put 'under strain' if the Government decides to permanently allow the conversion of offices into housing without planning permission.
Introduced in May 2013, so-called permitted development rights were originally intended as a temporary measure to bring underused buildings back into use.
While a number of councils have lobbied for and received exemptions from the policy in particular locations, such deals would be ignored under Government proposals
An LGA poll found over half of councils think the policy has delivered housing that doesn't meet identified need.
Four in 10 respondents said the measures had reduced office space, while 60% thought the changes had reduced the provision of affordable housing.
Cllr Peter Box said, LGA housing spokesman, said: 'What was meant to provide a new lease of life for empty offices has, in reality, seen organisations kicked out of their premises so landlords can cash in on the higher rents they can charge for flats and houses.
'These changes have created homes which do not meet the identified needs of a community, which has put pressure on schools, roads and health services, as well as making fewer houses which are affordable at a time when rents and house prices are soaring.
'Rather than letting communities shape their local areas through the planning system, the majority of these proposals will impose additional control from Whitehall. It is vital residents can have a say through their democratically-elected councils.
'These plans fly in the face of localism, add further confusion to the planning system and undermine the premise of a locally plan-led system which government promised to local areas,' Cllr Box added.
Housing minister Brandon Lewis accused the LGA of opposing change of use reforms because 'town halls can't hammer these regeneration schemes with punishing development taxes'.
He added that reforms were 'providing badly needed homes' while 'helping promote brownfield regeneration, protect the Green Belt and increase housing supply at no cost to the taxpayer. More housing in town centres also increases resident footfall and supports local shops'.