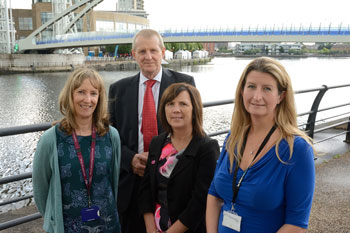 Salford City Council has helped launch a new organisation to join up adult social services and health care across the city.
The new Integrated Care Organisation (ICO) will be led by Salford Royal with a budget of £213m. Nearly 450 adult social care staff from the council will transfer to the new organisation, joining a workforce of more than 2,000 staff.
As well as being the ''prime provider' for all adult health and social care services, the ICO will also commission mental health services and will have responsibility for domiciliary and nursing home care.
Cllr Tracy Kelly, Salford City Council lead member for adult services, health and wellbeing, said: 'We are one of the first councils in the country to completely join-up all our adult social care services with NHS health services and create a new organisation to deliver them.
She added: 'It's a bold, brave move but one which I believe will deliver better and more personalised services for our residents and, in the face of reduced resources and increasing demand, it will protect and enhance the fantastic services and staff we have developed over many years.'
Although its primary aim is to improve health and care services, the new organisation is also expected deliver around £27m of recurrent savings by 2021.
Sir David Dalton, chief executive at Salford Royal, added: 'The launch of the ICO marks the beginning of a pioneering transformation of health and social care across the city of Salford.
'By pooling expertise, skills and knowledge, the care we provide will be even more patient-focussed and joined up so we can help reduce the need for hospital admissions and also reduce the length of a hospital stay.'