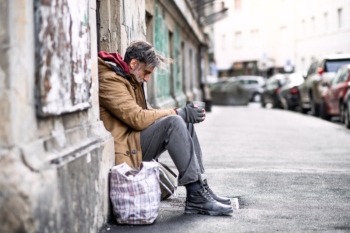 Homeless people will receive extra support after being discharged from hospital as part of a pilot project across England.
The pilots in 17 areas will share a £16m fund to help end the cycle of homelessness and hospital admissions by providing temporary accommodation, care and support.
A study found that patients who are homeless are more than twice as likely to be readmitted to hospital in an emergency compared with patients with housing
The pilots will use the fund to offer improved services to deliver housing, employment and drug cessation.
Minister for care, Gillian Keegan, said: 'By bridging the gaps between hospitals and homes these support networks are breaking the link between homelessness and multiple repeat hospitalisations.
'We know there is more to do and we are committed to improving the lives of people sleeping rough with support that makes a real difference not only to the individual but their families, communities and the NHS.'