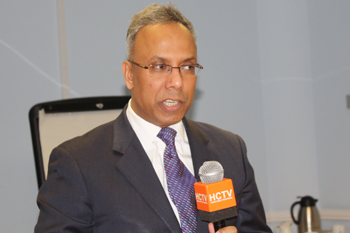 A damning report has questioned the capability of leadership at Tower Hamlets, claiming the town hall has failed to comply with 'best value' grant arrangements.
Communities secretary Eric Pickles could now launch an intervention in the town hall, after concluding 'there can be no place for rotten boroughs in 21st century Britain'.
A summary of findings from inspectors PricewaterhouseCoopers (PwC) claims existing governance arrangements at the local authority hold 'weaknesses', which have resulted in failures 'not being prevented'.
PwC investigators said the town hall had 'failed to comply with its best value duty' surrounding the sale of Poplar Town Hall, suggesting the winning bidder was 'connected to a person with other business interests that had an association with the mayor' Lutfur Rahman.
The report also claims grants have been awarded to organisations 'which were ruled ineligible or which did meet the required evaluation score'.
It states: 'Current governance arrangements do not appear to be capable of preventing or responding appropriately to failures of the best value duty of the kind we have identified.
'This calls into question the adequacy of these governance arrangements and the extent to which they are sufficiently robust to enable the Authority to prevent or respond appropriately to other failures of a similar nature,' it adds.
Pickles' intervention proposals would see a three strong team of as yet unnamed commissioners appointed until 2017 to oversee grants and property. He will now write to the borough, requesting representations on an intervention package he is proposing.
The communities secretary said: 'Councils should be championing a common sense of identity and Britishness across class, colour and creed. It is the residents of Tower Hamlets who have been let down.'
'These are serious flaws in what's occurred. If I was the mayor of Tower Hamlets I would be holding my head in shame,' Pickles added.
In response to the report, mayor Rahman said: 'In April 2014, Eric Pickles announced that he was concerned about potential fraud and the Evening Standard ran these claims on its front page. These allegations have been rejected by PwC.
'The report highlights flaws in processes. These are regrettable. We will learn from this report and strengthen our procedures accordingly. I was always confident wild claims about fraud would not be substantiated. Both my officers and I want to get on with our jobs serving all residents in Tower Hamlets.'
A council spokesperson added: 'Whilst the PwC report identifies some process and governance issues that needed to be improved the council notes that no evidence of criminality or fraud has been identified by the government appointed forensic auditors.
'In our view there is no evidence that these flaws of process are "regular or endemic" meaning that there is no failure to comply with our best value duty.
'We await the Government's reaction to the report but we urge the Secretary of State to act proportionately and to acknowledge the steps we have already taken to tighten up processes as well as the high performing nature of the council's services.'
The findings came after communities secretary Eric Pickles called for an investigation into allegations of fraud and governance failures at the east London borough.
Visit The MJ for full coverage of the Tower Hamlets investigation.