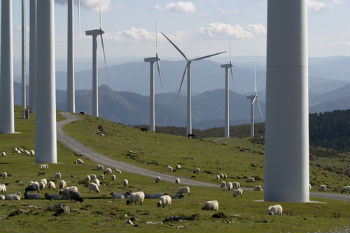 Environmental and energy groups have condemned Eric Pickles after it was revealed the communities secretary has extended his power to call in wind farm proposals.
In a written ministerial statement yesterday, Mr Pickles said he was extending the period in which he can call in planning applications for a further 12 months.
Friends of the Earth's renewable energy campaigner, Alasdair Cameron, said: 'It's ironic that someone who describes himself as the champion of localism is taking control away from communities, and blocking a popular and cheap form of clean power.
'Rather than tilting at wind turbines, ministers should be looking at ways to increase community ownership of wind power and help wean the nation off increasingly costly fossil fuels.'
The deputy chief executive of RenewableUK, Maf Smith, added: 'Telling local authorities that they can't decide on wind applications runs counter to the principles of the Localism Act, and introducing more delays is anti-business.
'Mr Pickles' intervention has led to further delays for developers, a couple of project withdrawals, and a court case. The fact that many of the projects he's called in since June still haven't had decisions shows that he's got enough on his plate without adding to it, and disrupting more projects.'