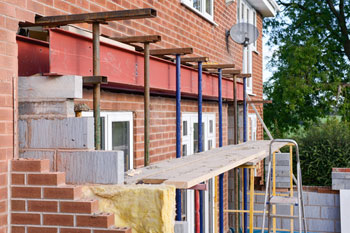 Local authority leaders have criticised the Government's decision to allow homeowners and businesses to extend their properties without going through local planning departments.
Over the weekend, housing minister Kit Malthouse announced that 'permitted development rights' would be made permanent so that property owners would not have to battle through 'time-consuming red tape'.
These rights, which were introduced on a temporary basis in 2014, enable anyone wanting to build an extension to do so without planning permission from their local authority.
Under the rules, homeowners can put a single-storey rear extension on their property of up to six metres for terraced or semi-detached homes or eight metres for detached homes.
'These measures will help families extend their properties without battling through time-consuming red tape,' said Mr Malthouse.
'By making this permitted development right permanent, it will mean families can grow without being forced to move.
'This is part of a package of reforms to build more, better, faster and make the housing market work – and sits alongside our drive to deliver 300,000 homes a year by the mid 2020s.'
However, Cllr Martin Tett, the Local Government Association's planning spokesman, argues that the extension of permitted development rights undermines local planning departments.
'Permitted development rules are taking away the ability of local communities to shape the area they live in, ensure homes are built to high standards with the necessary infrastructure in place and have resulted in the potential loss of thousands of desperately-needed affordable homes,' he said.
'While we recognise building extensions under permitted development has been popular with homeowners, the planning process exists for a reason.'
'We do not believe this right should be made permanent until an independent review is carried out of its impact, both on neighbouring residents and businesses, and also the capacity of local planning departments,' he added.