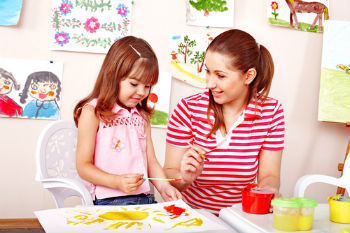 Nurseries are calling on all of the major political parties to include in their manifestos a 'radical' new passport scheme to simplify childcare funding.
The National Day Nurseries Association (NDNA), a charity representing British nurseries, has proposed introducing a Childcare Passport in order to simplify childcare funding.
There are currently four main funding streams for childcare: employer-supported childcare vouchers, Tax-Free Childcare being introduced this year, free early years entitlement and any help via tax credits or universal credit.
The NDNA believe their 'bureaucracy-cutting' passport idea would bring these different streams under one account, making it easy for families to use.
'It would put families at the heart of childcare and allow nurseries to get on with caring for and educating children,' said NDNA chief executive, Purnima Tanuku.
'This General Election is a great opportunity for parties to work together and transform childcare funding for the long term.'
The Government is planning to create Tax-Free Childcare accounts, to come online this April, which parents will be able to pay into in order to cover the cost of childcare with a registered provider.
'Developing this new, family-centred system, building on the planned Tax-Free Childcare accounts, will sweep away layers of bureaucracy,' said Ms Tanuku.
'If parents hold the purse strings they can choose and pay for their childcare directly, making things much simpler for them and allowing more money to reach nursery frontlines.'
'A cross-departmental taskforce with representation from Scotland and Wales including HMRC, DWP and the Department for Education should be established to deliver the passport,' she added.