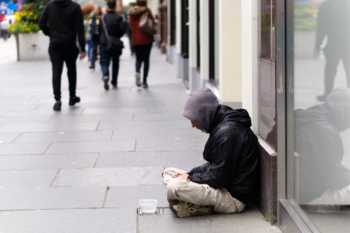 The Government has announced an extra £236m to help get rough sleepers off the street and will lead an 'urgent review' into what forces people to sleep rough.
The new funding will go towards offering Housing First style 'move on' accommodation for up to 6,000 rough sleepers and those at immediate risk of rough sleeping.
The prime minister has also appointed Dame Louise Casey to hold a review into rough sleeping that will provide the Government with advice on additional action required to stop people having to spend the night on the street.
The announcement coincides with the release of the Government's estimates of the number of people sleeping rough in autumn 2019. These show that there were 4,266 people estimated to be sleeping rough on a single night during the period studied – up 141% since 2010.
'It is simply unacceptable that we still have so many people sleeping on the streets, and I am absolutely determined to end rough sleeping once and for all,' said Mr Johnson.
'Today I've announced extra funding to help thousands more people get off the streets, and I have appointed Dame Louise Casey as an adviser to undertake an urgent review into the causes of rough sleeping and provide expert advice on vital next steps.
'We must tackle the scourge of rough sleeping urgently, and I will not stop until the thousands of people in this situation are helped off the streets and their lives have been rebuilt.'
Responding to the appointment, Dame Louise said: 'I am pleased to accept this commission from the Prime Minister and the Housing Secretary. Homelessness, and within that rough sleeping, is something that causes misery so I hope that I will be able to help the Government and the country expedite action on this issue.'
Housing secretary Robert Jenrick said the Government was determined to 'end rough sleeping in this Parliament'.
'We will be bringing together housing, addiction, mental health and the criminal justice system as never before to tackle this social ill from every angle,' he said.
'The coordinated effort that we will now pursue, beginning with this review, builds on the progress we have made in recent years, reducing the number of people sleeping on the streets.'
Jon Sparkes, chief executive of the homelessness charity Crisis, said the Government should 'recognise the intolerable pressure many in society are under'.
'To truly end rough sleeping, the Government must recognise the intolerable pressure many in society are under with low incomes, high rents and a lack of affordable housing pushing people into homelessness.
'The reality is that this problem will persist until we build the social homes we desperately need and restore housing benefit to a level where it covers the cost of rents.'