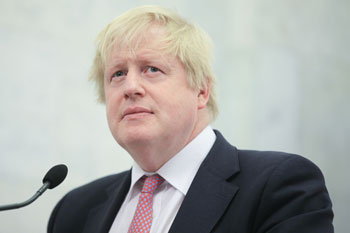 The prime minister has announced £300m of new funding to support the expansion of Growth Deals across Scotland, Wales and Northern Ireland as he reassures the UK that Brexit will not threaten the union.
Boris Johnson will make the announcement today during a visit to a military base in Scotland where he will set out how the money will help communities and 'ensure no corner of the United Kingdom is left behind.'
The Growth Deals were launched in Scotland, Wales and Northern Ireland in 2014 and to date have received £2.78bn in funding. The deals aim at providing investment for local businesses and projects.
Mr Johnson's visit to Scotland – his first official trip north of the border – will be followed by a visit to Wales to meet members of its farming community and Northern Ireland to discuss ongoing talks to restore the executive with the political party leaders.
'As I said when I stood on the steps of Downing Street last week, it is time that we unleashed the productive power not just of London and the South East but of every corner of England, Scotland, Wales and Northern Ireland,' Mr Johnson will say today.
'Important projects like Government's Growth Deals – today backed with £300m new funding – will open up opportunities across our Union so people in every corner of the United Kingdom can realise their potential.'
Attempting to calm fears that Brexit will threaten the union, Mr Johnson will also say: 'Our Union is the most successful political and economic union in history. We are a global brand and together we are safer, stronger and more prosperous.'
'So as we prepare for our bright future after Brexit, it's vital we renew the ties that bind our United Kingdom.
'I'm proud to be in Scotland today to make clear that I am a passionate believer in our great Union, and I look forward to visiting Wales and Northern Ireland to ensure that every decision I make as Prime Minister promotes and strengthens our Union.'
Welcoming the announcement, Scottish Secretary Alister Jack said: 'It's really great news that the Prime Minister is committed to ensuring that every part of Scotland benefits from UK Government Growth Deals.
'This investment will enable us to build on the success of our existing Growth Deals, which are helping to create jobs and boost local economies right across Scotland.'
Welsh Secretary Alun Cairns commented: 'Wales is the only nation of the UK where Growth Deals have already been announced to cover all of our communities and the Prime Minister and I are committed to building on the successes of our existing collaborative achievements in both south and north Wales.'
Northern Ireland Secretary Julian Smith said he was 'looking forward' to working with his partners in Northern Ireland to help restore the executive, two years after the devolved government collapsed owing to ongoing disagreements between the DUP and Sinn Fein.
The Growth Deals pledge follows the PM's announcement over the weekend for a £3.6bn Towns Fund supporting an initial 100 towns in England.
Photo: Alexandros Michailidis / Shutterstock.com