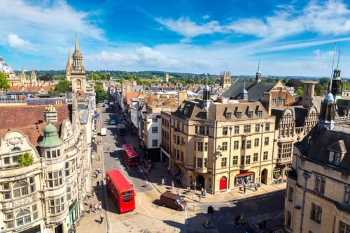 Oxford City Council is set to trial Britain's first Zero Emission Zone (ZEZ) as part of the local authority's effort to reduce carbon emissions in the city centre.
While the trial is underway, all petrol and diesel vehicles, including hybrids, wishing to enter the small number of streets that will make up the pilot area will incur a daily charge unless eligible for a discount or exemption.
The charge will vary from £2 to £10 per day depending on the emission levels of the vehicle. Zero emission vehicles, such as electric cars, will be able to enter the pilot area free of charge.
'The launch of Britain's first Zero Emission Zone on 28 February would not have happened without many people's enthusiasm, expertise, and time,' said Tom Hayes, deputy leader and cabinet member for green transport and zero carbon Oxford, Oxford City Council.
'Having worked personally with those people over the last four years of developing the ZEZ, I want to thank them because the ZEZ we're launching reflects what they have said.
'The city council has chosen to set the toughest air quality standards of any local authority in the country. There is no safe level of air pollution. As the chair of the Zero Carbon Oxford Partnership, we set up, the city council has helped to establish a data-led, science-based target of creating a net zero city by 2040.
'We have high ambition matched with a pragmatic desire to work with anyone and listen to a range of views; that's how you meet the climate crisis and clean our dirty air and deliver social justice at the same time.'