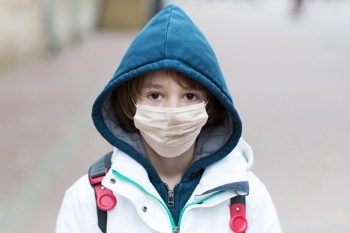 More than 3.1 million children across England are going to schools in areas exceeding World Health Organization (WHO) limits on PM2.5, City Hall has revealed.
There are two main air pollutants of concern in London, based on their impact on human health: nitrogen dioxide (NO2) and particulate matter (PM2.5). Poor air quality stunts the growth of children's lungs and worsens chronic illnesses, such as asthma, lung and heart disease.
The research cited by City Hall also found that more than 1.2 million children in London attended schools in areas that exceeded WHO limits for PM2.5 – more than 700,000 of them are of primary school age.
Children in London are four times more likely to go to school in areas with pollution levels that exceed WHO limits, than children in the rest of England.
Of the 30 local authorities with the highest PM2.5 at schools, all but two were London boroughs.
The average concentration around schools in London (12 µgm-3) is more than double the average concentration in Cumbria (5.2 µgm-3), the local authority with schools in the areas with the lowest concentrations of toxic air.
The research also found that those exposed to the worst air pollution are more likely to be deprived Londoners and from Black, Asian and Minority Ethnic communities.
'For too long it has been accepted that children growing up in London will breathe more polluted air than their friends and family outside this great city. But I don't accept this,' said the Mayor of London, Sadiq Khan.
'I'm doing everything in my power to stop young Londoners breathing air so filthy that it damages their lungs and causes thousands of premature deaths every year. This is why I'm expanding the Ultra Low Emission Zone later this year.
'I want to make sure all of London meets the World Health Organization limits for particulate matter. But I can't do it alone and I want to work with Government to achieve this goal. That's why I'm asking for the new Environment Bill to include legally binding WHO recommended limits to be achieved by 2030. We can't sleep walk from the health crisis of COVID back into complacency over the major impact of toxic air on everyone's health.'
Harriet Edwards, senior policy and projects manager, Air Quality, at Asthma UK and the British Lung Foundation, commented: 'Each year, the capital's poor air quality contributes to around 1,000 emergency hospital admissions for children with asthma and other respiratory conditions.
'Children should feel safe when they are at school, but instead they are being exposed to dangerous levels of air pollution which could be damaging their lungs and future prospects.
'For the tens of thousands of children living with existing lung conditions, breathing dirty air could trigger a life-threatening asthma attack or exacerbation. That's why we welcome the expanded ULEZ to help make more of London's schools safer and more inclusive for children with all types of lung disease.'