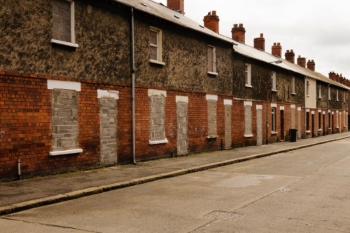 More than a third of England's most deprived areas will not benefit from the Government's £4.8bn Levelling Up Fund, according to new Salvation Army research released today.
It says coastal and rural areas with high levels of deprivation are set to be overlooked for investment under the Levelling Up programme because ministers are ignoring key indicators.
The Salvation Army has identified 26 areas across England that are set to miss out on the fund. They say the Government has prioritised areas by mainly concentrating on unemployment figures, and has overlooked the impact of zero hours contracts, seasonal employment and shrinking traditional industries on the ability of people to find stable skilled work.
Lack of affordable childcare is a further barrier, says the church and charity, which also warned of a risk that a disproportional amount of funding could be spent on infrastructure projects rather than on improving employment prospects.
The Government broke England down into 315 areas of which 93 were deemed a priority for funding. The Salvation Army broke the areas down into 345 areas and prioritised 116 areas as most in need of investment.
As part of the Levelling Up Agenda and upcoming White Paper in the autumn, the Government will be investing further funds into local authorities in the priority areas. The Salvation Army is calling on the Government to rethink how need is calculated to ensure that investment is made in areas with the most need and invested in sustainable projects when the funding allocation process begins.
Rebecca Keating, The Salvation Army's director of employment services, said: 'The £4.8 bn earmarked for Levelling Up is a bold move by the Government and an opportunity to lift thousands out of unemployment but we are worried that this investment is missing many key areas in serious decline.
'As well as analysing employment and income data, we talked to people to find out first-hand what people needed. Many people told us they have been stuck in low-skill seasonal jobs, which are now at risk following the pandemic but they are too old to easily access training courses to reskill. One of the most common issues are single parents faced with jobs offering wages that don't cover the cost of their childcare.
'We want to encourage the Government to listen to the communities who need their help. Look up from the spreadsheet and see what we are seeing on the ground.
'Every day we work with people who are being pushed even further from employment as local businesses close, or they are trapped in a cycle of low-paid seasonal work and zero hours contracts. While there are similarities in the Government's analysis of need and our report, there are too many areas of severe deprivation that have been overlooked. We must ensure investment reaches these people; it's the only way to truly level up the country.'
Ministers say they are spending billions of pounds regenerating all areas of the country, including coastal towns.