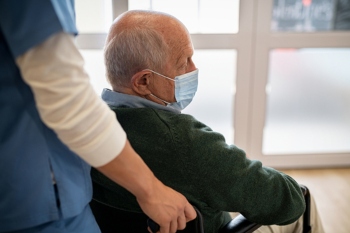 Local authority leaders have called on the country to reflect on the 'dedication and commitment' of the social care workforce as data on deaths involving COVID-19 in care homes is published.
The Care Quality Commission (CQC), the independent regulator of health and social care in England, has published data showing that, overall, 39,017 care home residents died with the virus between 10 April 2020 and 31 March 2021.
The data represent deaths of care home residents involving COVID-19, regardless of where the death occurred. So the CQC's figures include deaths of care home residents that occurred in the care home, in a hospital, in an ambulance or any other setting.
CQC noted that the number of death notifications involving COVID-19 from care homes have decreased substantially, adding that there has been a successful take-up of the COVID-19 vaccine across the country.
The regulator also emphasised that the numbers of deaths notifications alone are not a reliable indicator of quality or safety in individual care homes.
'We have a duty to be transparent and to act in the public interest, and we made a commitment to publish data at this level, but only once we felt were able to do so as accurately and safely as possible given the complexity and sensitivity of the data,' said Kate Terroni, CQC's chief inspector for Adult Social Care.
'In doing so, we aim to provide a more comprehensive picture of the impact of COVID-19 on care homes, the people living in them and their families. It is important to be clear, however, that although this data relates to deaths of people who were care home residents, many of them did not die in or contract COVID-19 in a care home.'
Responding to the figures, Cllr David Fothergill, chairman of the Local Government Association's (LGA) Community Wellbeing Board, said: 'This data is a solemn reminder of the number of deaths experienced in care homes across the country involving coronavirus.
'It is crucial to understand that these numbers alone do not in themselves indicate a care home's quality, particularly given the potential influence of other factors such as community transmission. It is also important that care providers and their employees continue to receive all support necessary in what is still a volatile and difficult period.
'We must also reflect on the incredible dedication and commitment of our social care workforce, many of whom put themselves at risk, experiencing tragedy and loss of their own.
'It is vital that this data and everything else we have learnt during the pandemic is used to improve our response and understanding about how best to support people's safety and wellbeing, as we look to build back better.'