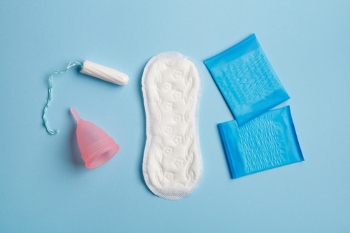 A third of girls say free period products are not available at school despite a Government commitment to remedy this.
In 2020, the Department of Education pledged to provide free period products for all students under the age of 18 in state-run schools and colleges in England.
However, new research from Girlguiding has revealed that 32% of girls and young women aged 11-18 cannot access free period products at their school or college and 30% say they are too embarrassed to ask for them.
The research also found that 77% of girls and young women believe period products are too expensive and one in 10 say they or their family cannot afford to buy them.
Around 80% of young women also reported that their school or college has not asked what type of product they would like, resulting in oversupply and undersupply of some products.
Caitlyn and Lucy, Girlguiding advocates, said: 'No one should be forced out of education because of their period. We were so pleased in 2020 when the UK government finally introduced free period products in schools and colleges in England.
'But our research shows that the scheme isn't working as it should and millions either don't have access to period products or, feel too uncomfortable and embarrassed to access them at school.
'As Girlguiding advocates we're calling on the government to change this. It shouldn't be our job to evaluate the scheme. We want the Department for Education and counterparts in devolved nations to do a full evaluation and make the changes needed so that everyone can access the period products they need.'