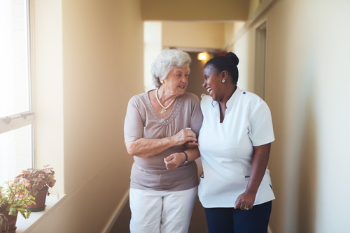 Workers within the care sector in England are more likely to earn less than the real living wage compared to those in Scotland and Wales, new research has revealed.
The analysis of Annual Survey of Hours and Earnings (ASHE) data, carried out by Citizens UK, shows that 30.2% of jobs in England's care sector are paid below the real living wage compared to 25.4% in Wales and 10.3% in Scotland.
This means that England has around three times the proportion of care sector jobs paying below the real living wage.
Low pay in the care sector disproportionately effects specific groups across society, as four out of five?care workers are women;?one in five?are Black, Asian, or Minority Ethnic; and?one in five?are single parents.
Yesterday, 200 community leaders from Citizens UK alliances across the country, including care workers and care recipients, will be holding a tea party in Parliament Square to call for MPs to back a real living wage for care workers.
Sherrie, a Citizens UK leader, previous care worker and current care recipient, said: 'It's simply not right that care workers in the UK are caring for others but are unable to care for themselves. I've seen care workers' children go without necessities like new school shoes because their parents cannot afford it.
'We need a real living wage for care workers, and we need it now. The new Health and Social Care tax is being implemented, and we need to see this reflected in wages. The Welsh, Scottish and Northern Irish governments are all taking heed of this crisis – why are English care workers being left behind?'
From 1 April, the Welsh government will be providing Welsh local authorities and Health Boards with £43 million to implement a real living wage in the care industry. This is already happening in Scotland, and Northern Ireland has stated that from June this year any company delivering services for Government will have to pay staff working on that contract the real living wage.
Jessie, a Citizens UK leader and senior care worker from Preston, said: 'Caring for others has always made me feel a sense of purpose, which is why I chose to continue in the industry over other options, like going to university. Now, I'm fortunate enough to be a senior care worker in a residential home and study at the same time – but I know how out of reach this is for most people in the care industry.
'Low pay makes it so difficult to get qualifications, but then you aren't taken seriously without them. That, coupled with ridiculously long hours, leaves care workers feeling they have no choice, with many choosing to leave the sector. It's not right – and a real living wage would help break this cycle.'