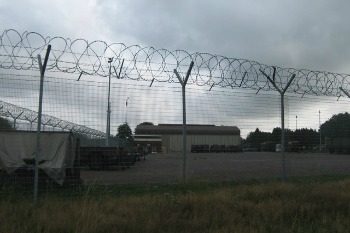 The law should be changed to restrict councils from re-housing large numbers of people outside their own districts, the leader of Canterbury City Council has said.
Cllr Simon Cook has spoken out after his council was outbid on 208 properties in Canterbury by the London Borough of Redbridge, who plan to move in more than 200 of its families currently in temporary accommodation.
The properties at Howe Barracks were formerly used by the Ministry of Defence, but became available to lease in late 2015.
Canterbury City Council said it had submitted a 'robust and comprehensive' bid to secure the homes for local people, but had been outbid by a council located 60 miles away.
Cllr Cook, said: 'The law does allow councils to place people in districts outside of their own, but of course this severely restricts the ability of the councils in those other areas to provide adequate and affordable housing for their own local people.
'We have explored the effective legal avenues open to us to prevent this from happening, but sadly there are none at present. The law allows councils to place people in districts outside of their own, provided they follow correct procedures. We will monitor this to ensure Redbridge follow due process and will take action if they fail to do so.
'The idea that a London borough can solve some of its housing problems by moving people miles away from friends and family in this way is very regrettable and we will be pushing the Local Government Association and other professional bodies to lobby for a change in legislation.'
The council also warned that the new families would put a financial strain on local services such as schools and social care, so would be seeking clarification from Redbridge on what level of support they would be providing for the people moving into the area.
© David Anstiss