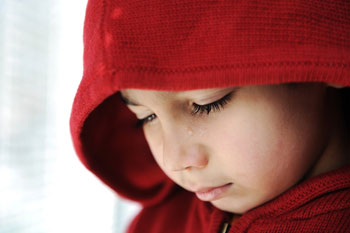 More than 16,000 children will be victims of domestic abuse over the Christmas fortnight alone, a children's charity has warned.
The Early Intervention Foundation (EIF) has highlighted the pressures facing vulnerable children and families over the Christmas period.
As well as thousands of children facing abuse over the next two weeks, the charity warned that many are in homes where there is alcohol or drug misuse, or serious and continuing issues with parents' mental health.
According to the Government's figures on children in need, nearly 185,000 children were identified as children in need on account of parental drug or alcohol problems, and more than 157,000 owing to their parents' poor mental health.
Writing in a recent blog post, EIF chief executive Dr Jo Casebourne has called for a national strategy on child vulnerability and long-term investment in early intervention services.
A report from the House of Lords public services committee recently found that there had been a decline of 48% in early intervention funding, 'while money spent on later, costlier, and higher-intensity interventions — such as youth justice, looked after children's services and safeguarding — increased by 34% to £7.6bn.'
Dr Casebourne also called for more investment into finding out what forms of support are most effective in supporting vulnerable children and families.
'In some of these areas, domestic abuse for example, we still don't know enough about what works to support the children affected. In other areas, such as intensive home visiting in the early years or family therapy, we do know what can work, but the right options are not available widely enough,' she wrote.
'The National Audit Office recently pointed out that just 8% of spending on big government projects is evaluated robustly, while 64% is not evaluated at all.
'We need central Government to invest in finding out what forms of support are effective, because none of us can afford to spend precious time and money on providing programmes and services that are unlikely to really help.
'By investing in the best approaches now and over the year ahead, we can ensure that Christmas next year may be, for children in some of the most vulnerable households, once again the most wonderful time of the year.'