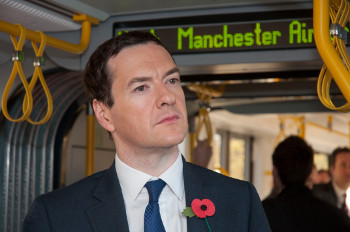 Former chancellor George Osborne has criticised the Government's 'lack of vision' when it comes to developing the North and has called for 'action' from the Prime Minister.
The Northern Powerhouse Partnership (NPP) today will set out four 'big ideas' to help rebalance the economy and shift power and jobs from the South to the North.
The Partnership, which is an independent body representing business and civic leaders in the north of England, will call for 'direct government intervention' into schools in the region to prevent young people from falling behind their contemporaries in the South.
As part of this intervention, the Partnership will recommend that an extra £1bn a year for five years should be made available from within the rising education budget to reform pupil premium.
It is also calling for a firm financial commitment to the big infrastructure needed to rebalance the UK economy, especially high-speed rail across the North from Liverpool to Hull.
The Partnership, which is meeting today at the Great Northern Conference in Leeds, will also urge the Government to give the green light to the £39bn plan for Northern Powerhouse Rail, the east-west rail connection, and guarantee that it opens in the North at the same time as HS2.
It will also call for more 'meaningful' devolution, which should involve the creation of mayors covering all major urban areas of the North and the granting of powers to pilot road user charging to pay for much-needed local transport improvements.
Commenting on the Government's approach to the North, George Osborne, who is the chair of the NPP, said: 'Five years on from the Northern Powerhouse being launched, our idea continues to get stronger and stronger.
'We have devolved Mayors, new science centres and better infrastructure.
'Above all, Northern communities and businesses understand that by working together the whole of the North can be stronger.
'But the Northern Powerhouse is suffering from a lack of vision from the Government. Indeed, it's hard to think of a single original idea that has come out of this Downing Street to advance the Northern Powerhouse.
'So today I'm proposing some policy ideas that would breathe life back into this Government's claim that it supports the North. It's time for some action.'
Northern Powerhouse minister, Jake Berry, said: 'The North is to benefit from record levels of Government investment including multi-billion pound amounts pledged for transport upgrades and £5bn set aside for Devolution and Growth deals.
'We have initiated the biggest transfer of power from London to local areas since the Second World War.
'We now have four – soon to be five – powerful and accountable Metro Mayors with real powers and a voice on the national and international stage.
'We have established Transport for the North, to help deliver major transport upgrades and we welcome the opportunity to be part of the debate about what's next for the Northern Powerhouse.'