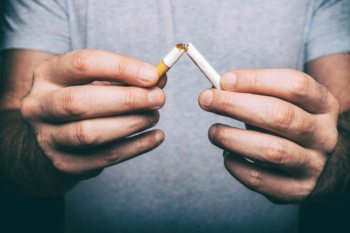 More than a million people have stopped smoking in England since 2014, new figures have revealed.
According to Public Health England, nearly 400,000 smokers managed to quit last year, the equivalent of one person every 80 seconds.
Research shows that help from local stop smoking services is the most effective way of getting someone to give up the habit. More than half (51%) of smokers that received help in addition to stop smoking aids managed to stop in 2017-18.
Dr Jenny Harries, deputy medical director at Public Health England, said: 'There are many different types of stop smoking support available, so it can be difficult for a smoker to know what will work best for them. The important thing is not to be put off trying to quit even if you have not managed to in the past.
'This year, Stoptober can help you find a combination that could work for you. We predict that thousands of smokers will quit every day over the next 10 years – I urge smokers not to get left behind for the benefit of their health. Join in, find your best way to quit and start your 28-day journey to becoming smokefree.'