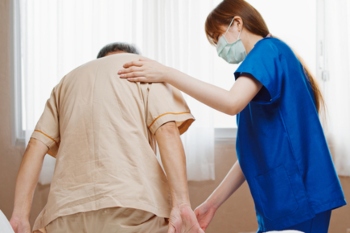 One in ten care workers are in receipt of in-work benefits, analysis by GMB has revealed.
The union said at least 100,000 care workers are claiming Universal Credit across the UK. GMB said care workers were paid just £8.72 an hour on average in England last year – with a third of care workers on zero hours contracts.
Kelly Andrews, GMB's national care lead, said: 'It should be a source of national shame that the dedicated care workers who supported and cared for individuals and kept many alive during pandemic are paid so badly that they are on Universal Credit.
'The Government is subsidising exploitation of our care workers. Our care sector is already facing up to 170,000 vacancies by the end of the year and a mandatory vaccine that could force thousands more away.
'With the Government's plan to slash Universal Credit payments by £20 a week in October, we are heading for a perfect storm.'
The union is campaigning for care workers to receive a minimum of £15 an hour.