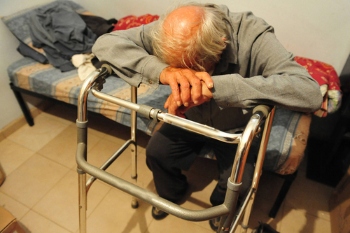 Around a quarter of working-age disabled people in the UK already struggle to pay for essentials like food and heating and will be hit hard by the cost of living crisis, a charity has warned.
The disability charity Leonard Cheshire has revealed that around 600,000 disabled people have just £10 or less per week to pay for food and other essentials.
They warn that the increase in the cost of living could prove a 'catastrophe' for this community.
A poll of over 1,200 working age disabled adults by Savanta ComRes found that 25% said they had missed a meal because they could not afford it, while over a quarter (28%) had not been able to afford to keep their home warm.
Commissioned by Leonard Cheshire, the poll also revealed that nearly a third (30%) had asked for financial help from friends or family.
Ruth Owen, CEO of Leonard Cheshire, said: 'How can anyone manage a weekly shop with £10? Many disabled people face impossible choices and are living day-by-day on a financial knife edge. The Government needs to recognise this and urgently act to avoid a desperate situation becoming a catastrophe.
'Last year, disabled people were telling us that they wanted to be able to "thrive and not just survive" through better access to social care. Distressingly, the situation is deteriorating. The cost-of-living crisis is pushing more and more disabled people to despair and into poverty.
'Individuals on very low incomes can face unavoidable extra costs daily just to manage their condition. The strain these budgets will be under in the coming months will be seismic.'