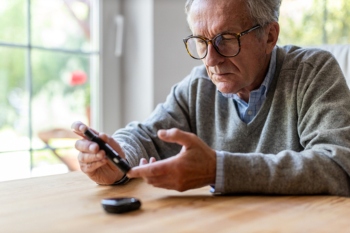 One in 10 adults in the UK could be diabetic by 2030, according to new analysis by Diabetes UK.
The charity said up to 5.5m people could be living with diabetes by 2030, with up to 17 million adults at increased risk of developing type 2 diabetes, unless the Government takes action.
It is calling on the Government to urgently invest in diabetes care and prevention such as the NHS Diabetes Prevention Programme. Other recommendations include improving access to weight management services and tackling the backlog of diabetes checks.
Chris Askew, chief executive of Diabetes UK, said: 'It's a sobering thought then that, if we don't act today, hundreds of thousands more will face the life-changing news that they have type 2 diabetes. We're at the tipping point of a public health emergency, and need action today to stop it in its tracks.
'But it doesn't have to be this way – we know that with the right care and support, diabetes complications can be avoided, and cases of type 2 diabetes can be put into remission, or prevented altogether.'
Councils warned that obesity and type 2 diabetes is one of the biggest public health challenges being faced.
Cllr David Fothergill, chairman of the Local Government Association's Community Wellbeing Board, said: 'Councils are doing all they can to help keep people healthy throughout their lives and reduce pressure on the health service and social care. Investment in councils' public health services now will reap benefits for everyone longer-term, including for the NHS and other public services.'