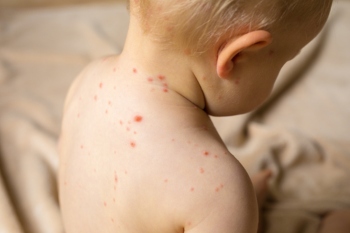 The UK is at risk of a measles outbreak if routine vaccinations are delayed due to the coronavirus pandemic, the Measles & Rubella Initiative has warned.
Estimates show that more than 117 million children across the world are at risk of missing out on on measles vaccines.
The global partnership warned that measles immunisation campaigns have already been delayed in 24 countries, with more likely to be postponed.
Joanna Rea, director of advocacy at Unicef UK, said: 'Delays in receiving the required two doses of the MMR is a serious threat to children's health so it is critical that all children, especially the most vulnerable, can access routine vaccinations. It's imperative that they continue in a timely manner, and health practitioners and families are supported to ensure this essential service continues safely.
'Having lost its measles-free status in 2019, the UK is not safe from a measles outbreak. Disruptions to routine vaccine services will increase the risk of children contracting deadly diseases, compound the current pressures on the national health services and risks a second pandemic of infectious diseases.'
New guidelines from the World Health Organization (WHO) are asking governments to undertake a risk-benefit analysis when deciding whether to delay vaccination campaigns in response to outbreaks.