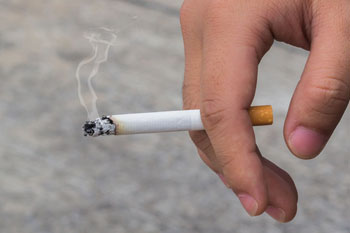 The number of smokers in Britain has fallen by 1.9 million since the smoking ban was introduced ten years ago, new figures have revealed.
Research by Cancer Research UK found smoking rates are now the lowest ever recorded at 8,300,000 adult smokers in Britain.
Since 2007, the proportion of 16 to 24 year olds who smoke has fallen to 17% from 26%.
A new poll for the charity has also shown that only 12% of people would like to reverse the ban on smoking in enclosed public spaces, with 38% saying it has reduced their exposure to second hand smoke.
Cancer Research UK is calling on the Government to publish a tobacco control plan to help maintain the progress in reducing smoking rates.
Sir Harpal Kumar, Cancer Research UK's chief executive, said: 'As well as protecting people from the deadly effects of passive smoking, we've also seen big changes in public attitudes towards smoking. It's now far less socially acceptable and we hope this means fewer young people will fall into such a potentially lethal addiction.
'But the job is far from done when we still have more than eight million smokers in Britain and tens of thousands of children taking up the deadly addiction every year. We need this government to continue focussing on tobacco and we urge it to publish the Tobacco Control Plan for England as soon as possible.'