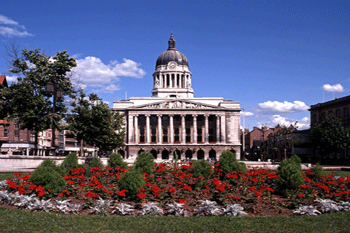 Nottingham has signed a five-year deal with Ningbo in its bid to become 'the UK's most China-friendly city'.
The agreement is designed to develop closer civic, cultural and educational ties between the two cities. It builds on work by the University of Nottingham, which set up a campus in Ningbo 10 years ago.
The deal includes setting up trade and investment offices in both cities and initiatives to help firms in Nottingham and Ningbo build trade in the UK and China.
Cllr Jon Collins, leader of Nottingham City Council, said: 'This plan really puts Nottingham at the front when it comes to creating stronger trade and investment links on a city-to-city basis in China.
'Our existing relationship with Ningbo has already created a number of benefits – this agreement will take it to another level.'
Vice mayor Wang of Ningbo Municipal Government said: 'The first five-year plan between Nottingham and Ningbo is the first cooperative plan not only between the UK and China but between China and anywhere else in the world. It identifies the direction for further cooperation in economics, education, culture, and so on.
'It will enrich the cooperation between UK and China at the beginning of the "golden era". I believe that the relationship will definitely get enhanced and become even stronger and ultimately benefits the citizens from both Ningbo and Nottingham.'
David Pearson, head of international trade at East Midlands Chamber, said: 'The chamber has been working closely with Nottingham City Council to support it in developing its strategy in Ningbo. There is a real buzz around the delegation that came over from China that Nottingham and Ningbo are doing something special.
'Opportunities are out there for firms of all sizes and we would urge any businesses which either already export to China, or are considering it, to take advantage of the trading links this new arrangement will create.'