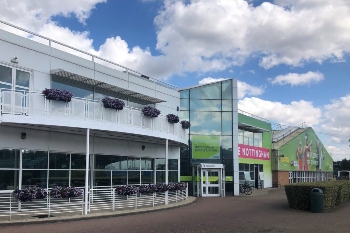 Nottingham City Council has announced that it is ready to hand over the Nottingham Tennis Centre to the Lawn Tennis Association (LTA) from the end of April.
Talks over the future of the Tennis Centre have been ongoing between the city council and the LTA since August 2021. A public consultation was also undertaken on proposals for the LTA to take over the lease.
The new arrangement aims to develop the centre as a key grass-court tournament venue, enable further investments to develop the facility into a world-class tennis training and competition base, while retaining community and public tennis facilities.
Cllr Eunice Campbell-Clark, portfolio holder for leisure, culture, and schools, said: 'We are so pleased to be able to move forward with the transfer and we look forward to hearing about the LTA's ambitious development plans in greater detail in the near future.
'We truly believe this agreement is the best way of building tennis in the city and beyond using the strong foundations that are already in place at the centre. While we are mindful that the change in operations will mean changes for some of our Active Nottingham customers, we are committed to making the transition as smooth and as seamless as possible.'
Gary Stewart, LTA head of operations, commented: 'We're delighted to be taking over the lease and running of the centre. This is a strategically important site for British tennis, and this move will allow us to safeguard its future.
'Work has already begun on upgrading the existing tennis facilities and there are more plans in the pipeline, as we look to add additional indoor courts over the next 12 months. These changes will help us support the thriving community tennis programme as well as provide infrastructure for events throughout the year. The tennis courts will be amongst the best in the country, but still available for the local community to use.'