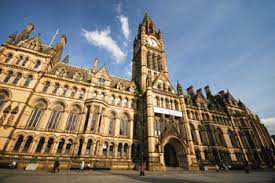 The leaders of city regions in the Northern Powerhouse have been urged to make cities 'more inclusive' to ensure everyone benefits from economic growth.
New research, from the Joseph Rowntree Foundation and the University of Manchester, claims that while regions like Greater Manchester, Leeds and Sheffield are experiencing higher than average growth in prosperity they are lagging behind other parts of the country in other categories.
The highest rated area for inclusiveness was Dorset with a rating of 5.61.
In comparison, Greater Manchester scored 4.7 for prosperity and 4.18 for inclusiveness.
'The Northern Powerhouse is enjoying resurgent prosperity, which is clearly welcome news, but the aim for city leaders should be to make cities more inclusive, as well as prosperous,' said the foundation's policy and research manager, Dave Innes.
'Other regions have outperformed them on inclusion – incomes at the bottom of the distribution, unemployment and the cost of living – over the last few years.
'Looking forward, city leaders should focus on making sure this is shared by all within their city regions – reaching the people and places who have traditionally been left behind.'