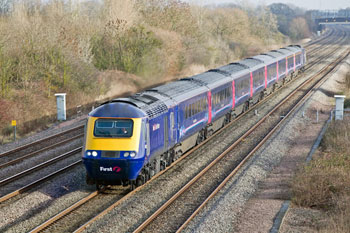 Political leaders from across the North have written to the transport secretary to 'propose a way forward' on Northern Powerhouse Rail (NPR).
The Government's Integrated Rail Plan, published earlier this month, significantly scaled back plans for NPR's transpennine rail links, to the 'disappointment and dismay' of the board of sub-national transport body Transport for the North (TfN).
In their letter to Grant Shapps, which is headed 'statutory advice' ,the TfN' Board said that it remains essential to retain the long-term ambition for the North's economy that underpins the region's Strategic Transport Plan.
The letter also called for the DfT to publish the technical work underpinning the IRP 'as a matter of urgency so there is clarity about the basis on which decisions have been taken'.
TfN has called for Mr Shapps to meet its interim chair, Cllr Louise Gittins, and a delegation from its board as soon as possible.
Cllr Gittins said: 'The North has spoken with one voice to make it clear that the Government's Integrated Rail Plan in its current form is not acceptable. That is why our statutory advice to Government is clear that they must think again. Instead of this top-down centralised approach they need to reach out and work with local communities, and businesses.
'Despite our deep concerns that the IRP is woefully inadequate, the TfN Board unanimously agreed that it wishes to explore with Government funding options for the delivery of the preferred NPR: options could include local contributions, including through harnessing local economic benefits.'
She added: 'We still believe that there is a way forward that will enable them to collaboratively move at pace to prioritise and sequence investment in a way that delivers the early foundations of a modernised rail system for the region. Instead of what looks like years of rail delays to build a network that by the time its finished will not be fit for purpose.'
In their letter the TfN board said that in discussing the economic and connectivity implications of the IRP they had all agreed a number of points, including:
That the Government acknowledges connectivity East to West is not only about speed but capacity and connection between towns as well as cities;
That in failing to deal with the infrastructure constraints, particularly around Leeds and Manchester, the plan is the wrong solution for the whole of the North and does not deliver the long-term transformation required to level up the North's economy';
That the proposals would present significant operational performance risks with intercity, regional, local, and freight services competing for capacity on critical sections of shared infrastructure across the North.