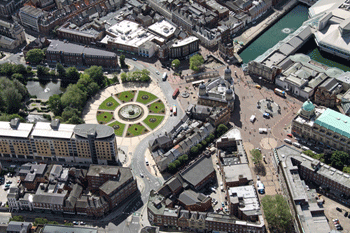 Many cities in the north of England are turning into low-pay economies with workers having to settle for insecure jobs, research has revealed.
A study by Centre for Cities found more than a third of all employment in Sunderland and Hull is low paid. One in three workers in Blackburn, Grimsby and Hull now earn less than two-thirds of the national average wage.
The report shows the north of England has been worst hit by a general shift throughout England and Wales towards insecure, low pay employment. The number of poorly paid positions increased by 750,000 between 2001 and 2011 and more than a fifth of workers are working for low wages.
If current trends continue, the north-south divide will widen with 60% of all jobs in London forecast to be highly paid in 10 years' time.
'There's no doubt that low-paying jobs have always existed, and that some UK cities continue to see significant growth in high-paid jobs,' said Alexandra Jones, chief executive of the Centre for Cities. 'But what has changed over the past few decades is that, in many cities, the pathways to upward mobility have been severely eroded, as their jobs markets polarise and the stable jobs of the "middle" begin to slip away.
'For far too long, successive governments have focused on the number, not the quality of jobs being created – but the trend towards low-paying, insecure employment is bad for workers, bad for cities, and bad for the national economy.
'Lack of opportunities for worker progression threatens to trap workers in poverty cycles from which they, and their cities, cannot escape.'
The report calls on Government to give cities greater flexibility over funding to help them support businesses and help low paid workers by cutting housing, transport and childcare costs. The Low Pay Commission should work with areas that have a strong case for introducing a city-region wide minimum wage, it said.
Julia Unwin, chief executive of the Joseph Rowntree Foundation, which supported the study, said: 'Earlier research for JRF has demonstrated the striking growth in working families living in poverty. Economically weak cities are home to increasing concentrations of poor working households, whilst two-tier economies are emerging in our more successful urban centres.
'Job quality is a burning issue, particularly in low skill, low wage sectors such as retail, hospitality and care. As more cities start leading on growth strategies they must respond as part of this work to the shifts occurring in the labour market. We need new thinking if we are to crack the problems around training, progression at work and job security that seem to keep increasing numbers of people stuck in entry level jobs.'