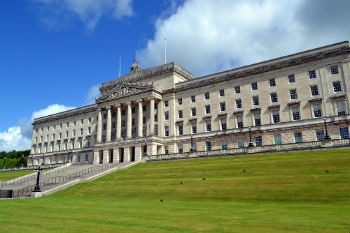 Council leaders in Northern Ireland have called for an 'urgent' review of administrative, legislative and statutory processes, and insisted this must include legislation necessary to complete local government reform.
The President of the Northern Ireland Local Government Association (NILGA) has said the capacity of councils to deliver on a range of services and investment initiatives remains 'hampered' by the legislative impasse in Stormont.
'NILGA urgently seeks a fast, thorough and clinical review of the administrative, legislative and statutory processes presently frozen because we don't have a devolved Assembly,' said Alderman Arnold Hatch, speaking after Wednesday's All Council Meeting on the Economy.
Alderman Hatch, a member of the Ulster Unionist Party who assumed his position last month, said that this review must include a look at the Regeneration Bill, which would see the Department for Social Development's statutory powers for Urban Regeneration and Community Development extended to district councils.
The review must also include consideration of the disestablishment of the Local Government Staff Commission and a revision of the Councillor Code of Conduct.
Mr Hatch, who said last month he was determined to keep NILGA 'resilient, innovative and business-like', insisted legislation and policy necessary to support business and society, e.g. Social Strategy, Licensing Bill, deregulation of e-bike usage, must be reviewed.
He also called for more budgetary certainty to support longer term council investment decisions cessation of central-local political meetings designed to assist in the delivery of the Programme for Government and community planning.
'To those of us in councils, it matters less who takes the initiative in government – we just need to remove a backlog which is hampering our competitiveness,' he concluded.