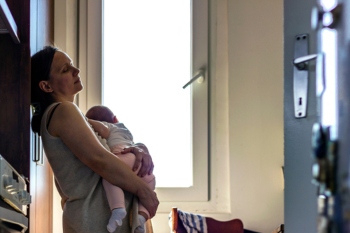 The majority of mothers facing urgent care proceedings are given less than a week's formal notice that their newborn baby might be removed, new research has warned today.
Analysis by the Family Justice Data Partnership for Nuffield Family Justice Observatory found that the number of newborn babies in care proceedings has grown 20% in England since 2012, and 40% in Wales.
It found that for urgent hearings, four out of five mothers were heard with less than seven days' formal notice. One in every six mothers faced care proceedings issued and heard on the same day.
It warns this makes it very difficult for parents to effectively instruct a solicitor, or for social workers to properly examine the case.
Lisa Harker, director of Nuffield Family Justice Observatory, said: 'The separation of a mother and baby is deeply traumatic for all involved and has lifelong implications. Although in some cases urgent action following the birth of a new baby can be necessary where there is an immediate safeguarding need, there is widespread concern that the volume of these cases is increasing.
'Not only does it seem that chances are being missed to work with vulnerable mothers much earlier to give them the best chance of staying together as a family, but when that is not possible, the process is often not being managed in a sensitive or humane way.'