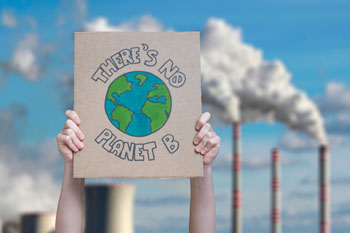 Climate scientists have developed an online tool that can help local authorities calculate their carbon budget and cut down on emissions.
The new tool, launched today from The University of Manchester and the Tyndall Centre for Climate Change Research, allows users to calculate a carbon budget for any administrative area larger than local authority scale.
This will help them set climate change targets which meet the objectives of the United Nations Paris Agreement on Climate Change.
The new Tyndall carbon budget tool has been piloted by 27 local authorities including Manchester City, Sheffield, and Leeds.
'Our approach applies principles from the Paris Agreement to scale this global carbon budget down to the UK and a set of clearly stated allocation principles to share the carbon budget between local areas,' said Dr Chris Jones from The University of Manchester.
'This is a practical and straightforward way for local and devolved governments in the UK to translate the implications of the Paris Agreement into carbon reduction commitments based on the latest science.'
The tool is based on latest synthesis report from the Intergovernmental Panel on Climate Change (IPCC) on how quantities of carbon dioxide emissions from human activities relate to global warming.
The IPCC is an intergovernmental body of the United Nations, dedicated to providing objective data on climate change.