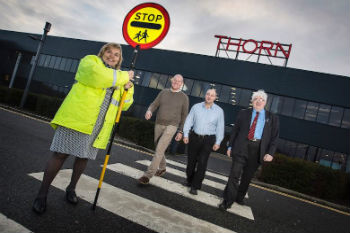 An inventor in Durham has developed the first upgrade to the school crossing patrol sign in five decades and he believes it has the 'potential to save lives in the future.'
The prototype, developed by Andrew Turner and business partner Matthew Thoburn, uses edge lit plastic to improve visibility in bad weather and has an eight-hour battery life.
A survey conducted by Durham County Council showed that drivers were braking up to 40% faster than with a normal stick. Further trials are planned.
Produced thanks to support from Thorn Lighting, Mr Turner first got the idea after witnessing a near accident on a drizzly, winter morning.
'It made me think that the modern driver needs something more visible to stand out because of the number of distractions such as the abundance of brake lights and modern technology on the roads,' he said.
'The only thing which has changed over the decades is the school crossing patrol person's uniform - they've become more highly visible but the stick hasn't.'
'I really do believe it has the potential to save lives in the future,' he added.
The prototype has won the approval of Road Safety GB.
'Road Safety GB is delighted to support this project,' said Alan Kennedy, the charity's business and operations manager.
'It is highly innovative and will help to improve safety on the way to and from school for our most vulnerable road users, young children.'
Durham councillor Neil Foster, cabinet member for economic regeneration, described Mr Turner as a 'shining example' of the innovation that is happening across the county.
'We recently saw his invention at the celebration of the Place of Light brand, which aims to highlight everything that makes the county such a fantastic place to live, work, invest and study, and Andrew is certainly one of our brightest minds working hard to make this county an even better place to live,' he said.
'We're delighted that we've been able to support him to help as he launches what is a fantastic product that will help keep our children even safer.'
Mr Turner will also launch what he describes as an 'inventors' academy' next year. Called Andrew Turner Inventions, it will deliver a programme to up to 30 schools to help children develop their own inventions.