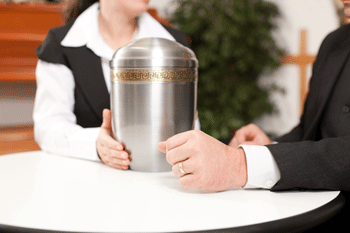 Councils across Scotland will be issued with a range of guidance around improving the way they manage crematoria following an investigation into practices in Edinburgh.
Mortonhall Crematorium became the subject of an inquiry in January after it emerged babies' ashes were being disposed of without parents' knowledge. Cases in others areas of Scotland have also come to light.
The Infant Cremation Commission's 64 recommendations include better training for those taking parents through the process of arranging their baby's funeral and stricter regulations around cremation and the disposal of babies' ashes.
Sue Bruce, chief executive of the City of Edinburgh Council, said: 'The families should be able to take comfort from their dedicated campaigning which has resulted in our action plan and the Infant Cremation Commission report by Lord Bonomy which will lead to legislative change in Scotland to ensure nothing like this can happen again.
'I have been impressed by the willingness of all the participants, especially the parent representatives, to work together. The publication of this action plan marks a significant step forward to ensuring that the highest possible standards are adhered to at Mortonhall.
'I am pleased with the progress already made but we now need build on that impetus to ensure the action plan is closely monitored and delivered in full. The working group will continue to closely with the Scottish Government to ensure our actions are consistent with the recommendations of Lord Bonomy.'