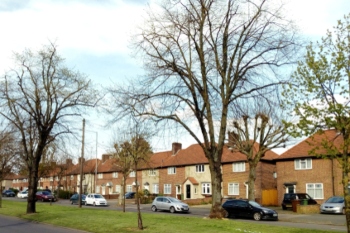 New housing developments on greenfield land are locking local communities into car dependency, a report has argued.
'At present nearly all large-scale greenfield housing is designed around the needs of the car,' the group Transport for New Homes (TfNH) said, following research visits to 20 new housing developments in England.
TfNH's report Building Car Dependency calls for reforms to the Government's planning policy, with less pressure on local authorities to meet housing targets and more freedom and powers to secure homes that can be better served by public transport.
'We need to redraft the national planning policy to make it unequivocally clear that building around sustainable transport modes is essential for a low carbon future and healthier and sociable local living,' the report states.
'Meanwhile the converse (building around access to easy road access) is counter-productive. The National Planning Policy Framework (NPPF) and associated Planning Practice Guidance (PPG) must give much clearer direction on these matters, so that both private sector and public bodies know what to expect and what to do.'
The Government should also release new guidance on transport assessments and access statements to enable local authorities to use 'different criteria when they sift through sites offered by land owners or their promoters'.
Financial incentives should be provided to foster 'mixed-use development with small and flexible-use premises for start-ups, individual cafés, retail and shared workspace'.
The report, which follows on from similar research released by TfNH in 2018, is particularly scathing of the level of car parking provided in greenfield sites, arguing this encourages traffic as well as wastes premium space on tarmac.
'A typical new greenfield development of 3,000 new homes may have roughly 6,000 car parking spaces...A non-urban local authority policy may for example specify three spaces for 4 bedroom houses; 2.5 spaces for 3 bedroom homes and 2 spaces for 2 bedroom homes.'
Brownfield sites in cities were generally 'far more suitable for those wanting to walk or cycle about their daily business, and for those wanting to use public transport'.
While greenfield country developments were much less sustainable apart from a few notable exceptions such as Hampton Park in Peterborough, Poundbury in Dorset and Derwenthorpe in York.
The report also notes that more use could be made of Geographic Information Systems (GIS), with councils employing an interplay of datasets over local and wider areas to coordinate the best locations for new homes with public transport networks, taking into account biodiversity, landscape and other environmental impacts and capacity of services.
This article first appeared on Transport Network.