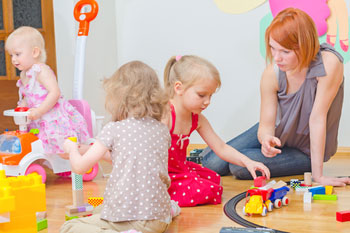 Council chiefs have welcomed Government proposals to increase the hourly rate for providers delivering 15 hours of free childcare to three and four year olds—but are concerned it will not be 'sufficient'.
The Government is committed to doubling its free childcare offer to 30 hours per week for working parents of three and four year olds—a policy which has been criticised because of a lack of funds.
Last May, 30 nurseries in York withdrew from an 'early implementation' scheme that was piloting the policy, arguing the £3.66 per hour they were receiving was less than the promised £4.88.
A new funding formula, announced yesterday by the education secretary Justine Greening MP, will include a minimum funding rate of £4.30 per hour to local authorities.
Ms Greening MP said this would mean councils would be able to pay providers an average funding rate of at least £4 per hour.
The education secretary promised 80% of local authorities would see increases in their hourly funding rates with the new formula, and said there would be a funding floor to ensure that no authority will see a reduction of more than 10% as a result of the formula.
Transitional protections will be in place to ensure no local authority sees an annual reduction in their hourly funding rates of more than 5%.
Responding to the announcement, Cllr Richard Watts, chair of the Local Government Association's children and young people board, said: 'Both councils and childcare providers are under severe financial pressures, which will continue as measures like the national living wage push up staff costs.
'We are therefore pleased that the Government has committed to increasing the hourly rate for providers delivering 15 hours of free childcare to 3 and 4 year olds. Government has also listened to concerns from councils by introducing a minimum hourly rate.'
However, Cllr Watts added: 'From September next year, councils and providers will be delivering the Government's commitment to an additional 15 hours of free childcare for working parents, bringing the total to 30 hours.
'Councils remain very concerned that the increase in funding will not be sufficient to secure delivery of these additional 15 hours to all parents who wish to access them.'
The Family and Childcare Trust also welcomed the Government's announcement but emphasised the importance of ensuring providers receive support from councils in driving up the quality of care.
'While the principle of more funding reaching the frontline of delivery is positive, it is important to recognise and fund the vital role that local authorities play in driving up quality locally,' said Megan Jarvie, head of policy and public affairs at the trust.
'While any extension of the supplement is welcome, the Tory funding plans fall woefully short across the sector of what is needed to deliver their promise of 30 hours free childcare,' said Tulip Siddiq MP, shadow early years minister.
'People will remember they've made promise after promise on childcare before - only to let parents down. The Tory record is one of fewer Sure Start centres, rising childcare costs and parents waiting for much needed support.
'The Tories have no proper plan to improve the quality or sustainability of childcare providers and deliver on their free childcare promise. Parents, children and our economy will pay the price.'