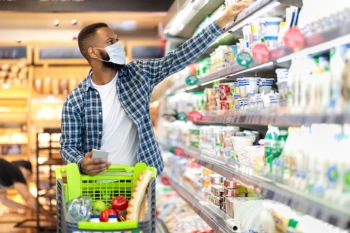 A new app to help families improve the diets of their children has been launched today.
The new NHS Food Scanner App includes a 'scan, swipe and swap' feature to offer healthier alternatives and signpost people to healthier food and drinks in line with the government's dietary recommendations for added sugar, saturated fat and salt.
A survey conducted by with Netmums shows 60% of parents give their children more sugary or fatty snacks than before the pandemic.
Dr Alison Tedstone, chief nutritionist at DHSC said: 'We are all aware of the increased pressures families have been under throughout the pandemic with children being stuck at home more.
'With advertising promoting unhealthy foods to kids, it's not surprising that parents say they've often found it hard to resist pestering from their children for more unhealthy snacks, and that is why the NHS Food Scanner App is a great tool to help families make quick and easy healthier swaps.'