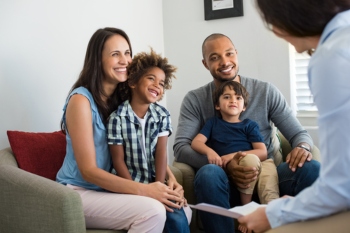 A new £160m fund has been announced by the Government to help children in care find adopted families more quickly.
The three-year funding package will help reduce the delays in matching children with the right families and provide adoptive families with more support.
This includes cognitive therapy, family support sessions and activities to help children recover from earlier traumas like abuse or neglect.
Cllr Anntoinette Bramble, chair of the Local Government Association's Children and Young People Board, said: 'Adopters tell us that ongoing support is vital and we have long called for the Adoption Support Fund to be extended, so we are pleased that adoptive families and adoption agencies now have certainty over this funding for several years.
'We would now ask Government to extend this investment to aid the recruitment and retention of foster carers and the children's homes workforce, alongside additional support for kinship care, to make sure that every child can live in the home that's right for them.'
The new funding includes £19.5m for Regional Adoption Agencies to improve national matching between parents and children and focus on recruitment of prospective adopters from all communities.
Sarah Johal, national adoption strategic lead, said: 'I welcome the new funding for Regional Adoption Agencies which will help us transform the adoption system by bringing together best practice and testing out new innovative approaches to recruitment; matching; early help and adoption support.
'Our ambition is to ensure services are delivered to the same high-quality standards across the country.'
Figures show there was a 23% increase in the number of families approved to adopt in the past year, with the number of children waiting longer than 18 months to be adopted falling.
Between April-September 2021-22, 3,700 children left care under a permanence order, an increase of 31% on the same period last year.