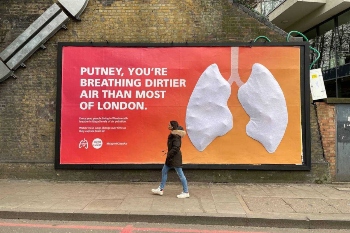 Thousands of children are exposed to dangerous levels of air pollution because their schools are located close to major roads, campaigners have warned.
International charity Environmental Defense Fund Europe (EDF Europe) said new research shows that in London, 47,500 children attend state primary schools within 100m of the city's Red Routes - Transport for London's network of major roads.
People near these roads breathe levels of nitrogen dioxide (NO2) 57% higher than an average road in London and fine particulate matter (PM2.5) 35% higher, the group said.
Ahead of the mayoral elections in London, a coalition of environmental campaigners is calling for all candidates to commit to 'safeguard' the planned expansion of the Ultra Low Emission Zone and to 'transform' the Red Routes.
The campaign is led by Mums for Lungs, a group that was started by campaigners living near polluted roads in South London, and 'Choked Up' a youth group of Black and brown teenagers that campaigns on air pollution.
The groups have launched a major poster installation in the shape of a pair of giant, artificial lungs which will change colour from white to grey as air pollution increases.
Campaigners pointed out that last week the Court of Justice of the EU (CJEU) ruled that the UK has persistently broken legal limits on air pollution for a decade, with levels of nitrogen dioxide (NO2) illegally high in 75% of towns and cities.
Oliver Lord, head of policy and campaigns at EDF Europe, said: 'Kids in London have been breathing illegal levels of air pollution for far too long, and not just in the city centre. Exposure to air pollution at a young age can irreversibly stunt children's lungs and create health problems for the rest of their lives.
'Expanding the Ultra Low Emission Zone is fundamental to cleaning up vehicles on busy roads like the Red Routes and helping to solve our air pollution crisis in the shortest possible time.
'The ULEZ dramatically reduced air pollution in central London, where people mostly work, and our analysis found benefits on roads along the boundary and beyond. We must build on this progress by expanding the ULEZ to include more people's homes, local high streets and schools.'
Have you seen the artificial lungs we've set up in #Putney with @ChokedUp_UK? They turn grey when exposed to #AirPollution. More needs to be done to protect the 47500 primary school children who go to school near major roads. #Mayor4CleanAir pic.twitter.com/tuLo0nyuPV

— Mums For Lungs (@MumsForLungs) March 9, 2021
Photo: Environmental Defense Fund Europe