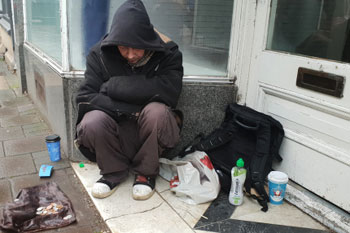 Nearly £2m has been awarded to six projects as part of an effort to help test models that improve access to health services for people sleeping rough.
The six projects will use the Rough Sleeping grant to evaluate models that improve access to health services for people who have both mental ill health and drug and alcohol dependency needs.
The projects, which are based in Lambeth, Newcastle, Westminster, West Sussex, Portsmouth and Leeds, all involve partnerships between local authorities and Clinical Commissioning Groups (CCGs).
People who experience rough sleeping have much poorer health than the general population. In 2018 there were an estimated 726 deaths of homeless people in England and Wales, an increase of 22% since 2017.
The numbers of people experiencing rough sleeping have increased by 165% since 2010, and on a single night in Autumn 2018, 4,677 people were recorded as sleeping rough in England.
'It is vital that people who experience rough sleeping get access to the health services they need,' said Rosanna O'Connor, director of drugs, alcohol, tobacco and justice at Public Health England.
'This grant is funding promising projects that will test models that help people who experience rough sleeping with substance dependency and mental ill health get the treatment and support they need.'