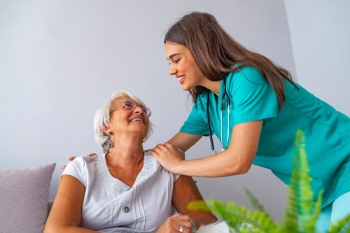 NHS England today launched 42 statutory integrated care systems (ICSs) to bring together GPs, hospitals, local authorities, and other partners to plan and deliver health and care services at the local level.
The new statutory bodies will replace clinical commissioning groups in a move that NHS chief executive Amanda Pritchard said would 'completely transform health and care for people in their local communities.'
ICSs are partnerships of organisations that come together to plan and deliver joined up health and care services.
They include an Integrated Care Partnership (ICP) – a statutory committee jointly formed between the NHS Integrated Care Board and all upper-tier local authorities that fall within the ICS area.
Each ICS also includes local authorities in the ICS area that are responsible for social care and public health functions.
Ms Pritchard said: 'Integrated care systems have the power to truly transform the way that we care for people up and down the country – not only will the NHS provide care when someone is unwell or has an accident but alongside our local government partners, we must also now play an increasing key role in managing peoples' health so that we can catch more killer conditions earlier and save lives.
'Local areas are already doing this by going out into communities to spot signs and symptoms earlier in places such as sports clubs and betting shops as well as ensuring people can access community support rather than using 999 or going to A&E.
'Through these schemes, we are already making a massive difference to peoples' lives. The NHS will now build on this success and innovation and deliver care for patients that is fit for the future as well as saving taxpayers' millions of pounds each year.'
Health and social care secretary Sajid Javid said: 'We have learned many lessons during the pandemic, particularly following our hugely successful COVID vaccine roll-out, and one of these is that a more joined-up health and care system can help thousands more people get the care they need in the right place at the right time.
'Our Health and Care Act has now established Integrated Care Systems in law, boosting access to care for patients by removing barriers to joint-working, supporting innovative local solutions and giving local leaders more freedom to rapidly fix the issues that matter most to patients.
'I'm hugely grateful to the staff already driving life-saving initiatives in their communities through these new systems, helping to tackle disparities across the country and bust the COVID backlogs.'