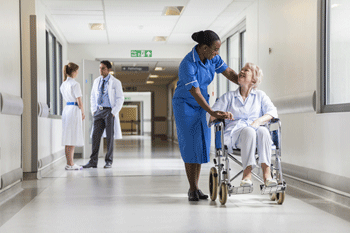 Council chiefs have welcomed the NHS's long-term plan to focus more on prevention, but have criticised the Government for not taking action on adult social care.
The NHS Long Term Plan, which was published today, emphasises the importance of early detection and prevention. It says this will stop an estimated 85,000 premature deaths each year.
New measures in the plan, argue NHS leaders, such as genetic testing for a quarter of people with high inherited cholesterol, will help prevent 150,000 heart attacks, strokes and dementia cases.
An estimated 345,000 more children and young people will also receive mental health support through the expansion of community based services, including in schools.
As part of the focus on prevention, the new plan emphasises the importance of delivering care in people's homes in order to free up hospitals.
According to the Government, this will also be the first time in the health services' history that investment in primary, community and mental health care will grow faster than the overall NHS budget.
This will fund a £4.5bn new service model for the 21st century, the plan states, where health bodies work alongside local government to provide joined up care.
'The NHS has been marking its 70th anniversary, and the national debate has rightly centred on three big truths,' said NHS England chief executive Simon Stevens.
'There's been pride in our health service's enduring success, and in the shared social commitment it represents.
'There's been concern – about funding, staffing, increasing inequalities and pressures from a growing and ageing population. And there's also been legitimate optimism – about the possibilities for continuing medical advance and better outcomes of care.
'In looking ahead to the Health Service's 80th birthday, this NHS Long Term Plan acts on all three of these realities. It keeps all that's good about our health service and its place in our national life.
'It tackles head-on the pressures our staff face. And it sets a practical, costed, phased route map for the NHS's priorities for care quality and outcomes improvement for the decade ahead.'
Cllr Ian Hudspeth, chairman of the Local Government Association's Community Wellbeing Board, welcomed the publication of the new plan.
'The plan has a much needed focus on prevention, early support and reducing health inequalities as well as promising investment in primary, community and mental health services,' he said.
'The focus on giving children the best start and on caring for older people in their own homes is right and should complement social care and wider services provided through councils and others.'
He did, however, warn that it could only be realised if adult social care and public health services in councils were properly funded.
'We feel this is a missed opportunity for the Government to also launch its long-awaited adult social care green paper and proposals for the sustainable funding of these services,' he said.
'To help the NHS make its extra funding go further and alleviate the pressures on the health service, it is essential that the Government plugs the £3.6bn funding gap facing adult social care by 2025 and reverses the £600m in reductions to councils' public health grants.
'The current system of social care is unsustainable and will buckle under the weight of demand unless the Government urgently invests in these essential services, which protect health, prevent sickness and are the surest way to reduce hospital admissions.'