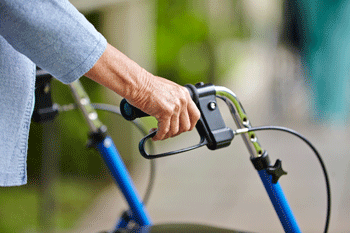 The NHS continuing healthcare system is 'fundamentally flawed' and confusing for those who rely on it, a damning new report has argued.
Research by Parkinson's UK and the Continuing Healthcare Alliance concluded that the healthcare system – which supports those with significant health and social care needs – is failing the most vulnerable in society.
The coalition of charities are calling for NHS England and the Department of Health to urgently address the shortcomings within the system, saying it is 'complicated, confusing and intimidating' for users.
Morgan Vine, policy and campaigns adviser at Parkinson's UK and chair of the Continuing Healthcare Alliance, said: 'With significant cuts to social care and access to welfare benefits being restricted, some of the most vulnerable people in our society are seeing too many avenues of support being stripped away. This makes the failures of the NHS continuing healthcare system even more harrowing.
'What we hear time and again is that seriously ill people are being put through a complex and bewildering assessment process, often only to be told they don't qualify for support. This leaves them and their carers confused, angry and isolated.'