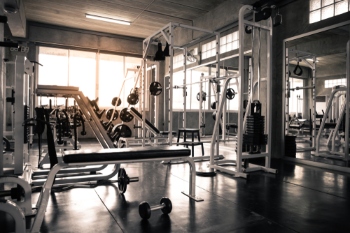 More than 100 leisure centres in England could go bust due to the coronavirus crisis, district councils have warned.
A new survey revealed today that one in three district councils expect to be forced to close gyms and swimming pools due to the 'devastating' financial impact of the pandemic.
One in five councils believe centres will go out of business within the next three months and three out of five within the year.
Of those able to remain open, nearly four out of five have warned they will have 'no choice but to strip back many services'.
In a letter to Prime Minister Boris Johnson, Baroness Grey Thompson, who will be formally elected as the Local Government Association's president in July, wrote: 'If the Government is to deliver on the aims of the Queen's Speech and create a stronger, healthier and more prosperous society it cannot allow hundreds of facilities to close across the country.'
More than 400 gyms, polls and leisure centres in the UK have already been forced to close during the pandemic.
The District Councils' Network (DCN) said government funding to support leisure centres during the pandemic fell 'far short of plugging the £325m funding gap'.
DCN's lead member for enhancing quality of life, Cllr Dan Humphreys, said district councils had 'done all they can to keep leisure services afloat'.
He continued: 'As these alarming findings show, the gyms, swimming pools and leisure centres that communities rely on every day face a desperately bleak future, with many on the brink of closing in the coming months due to the financial losses they have incurred during the pandemic.
'A wave of closures will deliver a real body blow to our efforts to boost physical and mental health and address the health inequalities across our communities.'
Ministers have said they 'sympathise with the plight of leisure centres' but have insisted it is for councils to fund them rather than central government.