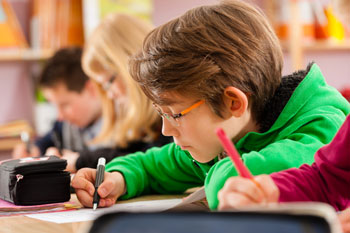 Poorer pupils are more likely to be excluded than to achieve the Government's gold standard English Baccalaureate, a teaching charity has revealed.
Teach First has highlighted that 10.3% of pupils on free school meals achieved the EBacc with a four or above last year, but a bigger proportion (10.7%) had faced a permanent or temporary exclusion.
An EBacc consists of a GCSE in English, maths, a science, a language, history or geography and is 'highly valued' by top universities, according to the Russell Group.
Pupils on free school meals are three times more likely to be excluded than other students – with 44,000 experiencing a fixed term or permanent exclusion in 2016-17.
Government research has also previously found that every extra day of school missed is associated with a lower chance of achieving five or more good GCSEs or gaining the EBacc.
'Exclusion is the hotly debated topic in education right now and whatever your opinions towards the EBacc, there is no denying that the subject within it are highly valued by top universities,' said Russell Hobby, chief executive of Teach First.
'So with higher rates of exclusion and lower GCSE attainment it's a real cause for concern that poorer young people appear to lack the support and guidance they need to succeed through school, to keep their options open and to meet their aspirations.
'We need all young people to have access to the same high standards of education, regardless of their background or family income.'