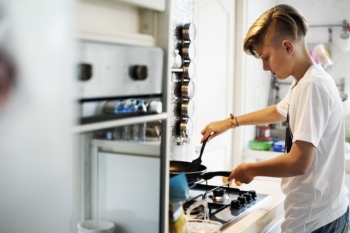 More children could end up caring for sick and disabled adults once they are discharged from hospital under the Government's health reforms, a charity has warned.
Barnardo's is calling for an amendment to the Government's Health and Care Bill, arguing it could see thousands of adults with serious and complex health issues discharged in the sole care of children.
It warns that under the reforms the NHS will no longer need to consult with the patient's carer when discharging a patient meaning vulnerable child carers will miss out on support.
Previous research has found 180,000 children in England who care for an ill or disabled relative are already missing out on support because they were unknown to their local authority.
The charity is calling for an amendment to the Bill that would require NHS bodies to inform the local authority where any new or existing young carer lives to ensure they are given the right support.
Barnardo's interim Co-CEO, Lynn Perry, said: 'Adults with extremely complex health and care needs are already being discharged from hospital into the care of children. This is only set to get worse if the changes in the Health and Social Bill come into effect.
'Caring for loved ones is something that many young carers are incredibly proud to do but children must never be expected to shoulder the burden of care for their family members on their own.'
Cllr Anntoinette Bramble, chair of the Local Government Association's Children and Young People Board, said: 'If an adult is to be discharged from hospital into the care of a young person, it is important for everyone involved that an assessment takes place to ensure this is appropriate, and to check whether more formal support would be more suitable.
'Both adult and children's social care services are under significant pressure. If we are to make sure that young carers get the support they need and do not have to take on excessive responsibilities, councils must receive the funding they need to provide these vital services.'
A Department of Health and Social Care spokesperson said: 'Everyone should receive the care and support they need in the right place, at the right time, meaning no patient should be discharged until it is safe to do so.
'It is not true that the Bill will lead to people being discharged without appropriate support in place. If families and carers need interim support from health and care services, this should be identified at discharge and appropriate support should be put in place before they are discharged home.'