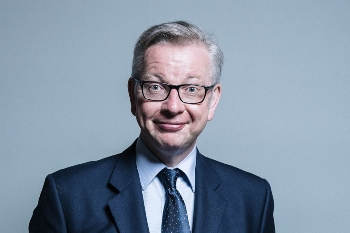 New secretary of state Michael Gove will preside over a beefed up new department with a firm focus on levelling up, it has been revealed.
The Ministry of Housing, Communities and Local Government kicked off a rebrand over the weekend, changing its twitter feed to the Department for Levelling Up, Housing and Communities (LUHC).
Alongside the rebrand, the Government has appointed former bank of England chief economist Andy Haldane to head up a new Levelling Up Taskforce, reporting directly to the Prime Minister and Mr Gove.
The new secretary of state will work across government departments to deliver levelling up. He also have responsibility for UK governance and elections, and will take on the title of Minister for Intergovernmental Relations leading co-ordination of the devolved administrations.
Neil O'Brien, who was appointed as a government adviser on levelling up in May, has been named as a parliamentary under secretary of state.
In a statement released from the rebranded department, Mr Gove said: 'Our relentless focus will be on delivering for those overlooked families and undervalued communities across the United Kingdom.
'We have a unique opportunity to make a real difference to people's lives.'
Commenting on the appointment of Mr Haldane, the Prime Minister reiterated his commitment to leveling up and added: 'Andy is uniquely qualified to lead our efforts to raise living standards, spread opportunity, improve our public services and restore people's sense of pride in their communities.
'I look forward to working with him, and with my new ministerial team, to deliver the opportunities this country needs.'
Kemi Badenoch has also been appointed as a minister to the department, while Christopher Pincher and Lord Greenhalgh were reappointed as ministers and Eddie Hughes was reappointed as junior minister.