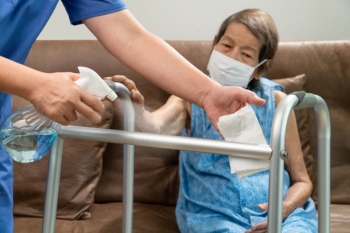 The Government 'seems complacent' about the risk of care homes collapsing in the wake of the pandemic, MPs have warned today.
In a new report, the Public Accounts Committee (PAC) said COVID-19 has had a 'devastating impact on the care sector' with many providers at risk of failing.
It said the Department of Health and Social Care has 'poor oversight of the system and seems complacent about the risks of local market failure.' It wants it to set out in detail how it will help providers move beyond COVID-19.
The report also criticises the Government for the lack of promised social care reforms, warning the system is not properly funded and lacks transparency.
Meg Hillier, chair of the Committee, said: 'Carers, younger and older adults needing care, and home care have seen decades of neglect, and the 1.5 million who work in care deserve much better.
'The reforms to address this now must include a long-term funding plan that allows local authorities and providers to innovate and improve services. We cannot afford more broken commitments on care.'
Professor Martin Green, chief executive of Care England, said: 'This hard hitting report makes it absolutely crystal clear that reform is not only necessary but essential. We hope that the Government will adhere to the excellent recommendations and ensure that social care gets the attention it deserves, it is not just a case of money but system review.'
A Department of Health and Social Care spokesperson said: 'Throughout the pandemic we have sought to protect everyone working in the social care sector or receiving social care, particularly older people who are more vulnerable to the virus, and have provided almost £1.8bn for the sector, including infection prevention, control measures and prioritised the sector for the vaccine.
'As previously announced, the Health and Care Bill will introduce plans to develop and support improved adult social care oversight across England.'